Factory Introduce
Guangxi BinYang XinGuang Arts and Crafts Co.,Ltd established on 1997 is factory are very professional on manufacturing baskets, wicker works.
Our products include:
1-By use function classify
Home baskets decoration baskets
Gift baskets packing baskets
Garden baskets garden planters
Flower baskets floral baskets
Festival baskets party baskets
Storage baskets laundry baskets
Food baskets fruit baskets
Picnic baskets dinner baskets
Candy basket chocolate baskets
Kitchen baskets bathroom basket
Stationery baskets holder baskets
Hanging baskets balcony baskets
Wall basket rack baskets
Home wickers furniture
Cat tree pet nest
Photo frame
Lampshade
Showing board
Artificial flower dried plants
Garden tool
Imitate shape baskets toys
Others use relate
2- By material classify
Sea grass baskets
Water hyacinth baskets
Rattan baskets
Wooden baskets
PE rattan planters
PP rattan baskets
Metal baskets metal pot
Straw rope baskets
Paper strings baskets
Jute cotton baskets
Wire baskets
Leather baskets
Sisal string baskets
Bamboo baskets
Husk bark baskets
Stone pottery planters baskets
Glass baskets vase
Others material baskets
3-By on hot sell and fashion
Top on supermarket sell
Top on chain store sell
Top buy by buyer importer
Top online sell baskets
Top profit select baskets
Top fashion style baskets
Top new and design baskets
Top function baskets
Top rustic baskets
Other top sales
4-By on baskets effects projects
Home use baskets effects
Gifts use baskets effects
Garden use baskets effects
Flower use baskets effects
Food fruit use baskets effects
Festival use baskets effects
Family use baskets effects
Relationship use baskets effects
Pet use baskets effects
Room house use baskets effects
Customers after use effects
Project use baskets effects
Compare use result effects
5-By in where place use
Outside inside door baskets
Fence wares fence baskets
Mail box show board
In garden baskets planters
In room baskets
On desk in funiture baskets
In kitchen baskets
In washing baskets
Decoration baskets
By window baskets
6-By series baskets in one carton
For home set
For gifts set
For garden set
For festival set
For food fruit set
For storage set
For decoration set
For picnic dinner set
For pet set
For packing set
7-By shape style
Baskets Tray Box Vase pot Rack Board Square and round Rectangle and oval Trapezium pyramid imitated any shape others
Our factory has more than 3000 square meters and 200 workers.

Our factory is located in Nanning wickers hometown of the center of China Asian Zone, where close to HK and SZ Port convenient transport.
We have lower labor resource and skillful workers, high quality, shorter lead time and reasonable competitive price can satisfy what you need
Now, if you are importer wholesaler or agent, we would like to cooperate with you.
We also can manufacture according to your spec, drawing, detail or your request. OEM and ODM are you favorable to us.
We are sincerely expecting any enquires and invite you to visit our factories. We would like to establish a long term relationship with faithful.
Thank you for your visiting our website.
Contact:

Harry
Phone: +86 771 8279357 Mobile: +86 18978872109
Email harry@phoenixcrafts.cn

QQ: 469674002
skype: mhylyj
Factory pictures

Factory office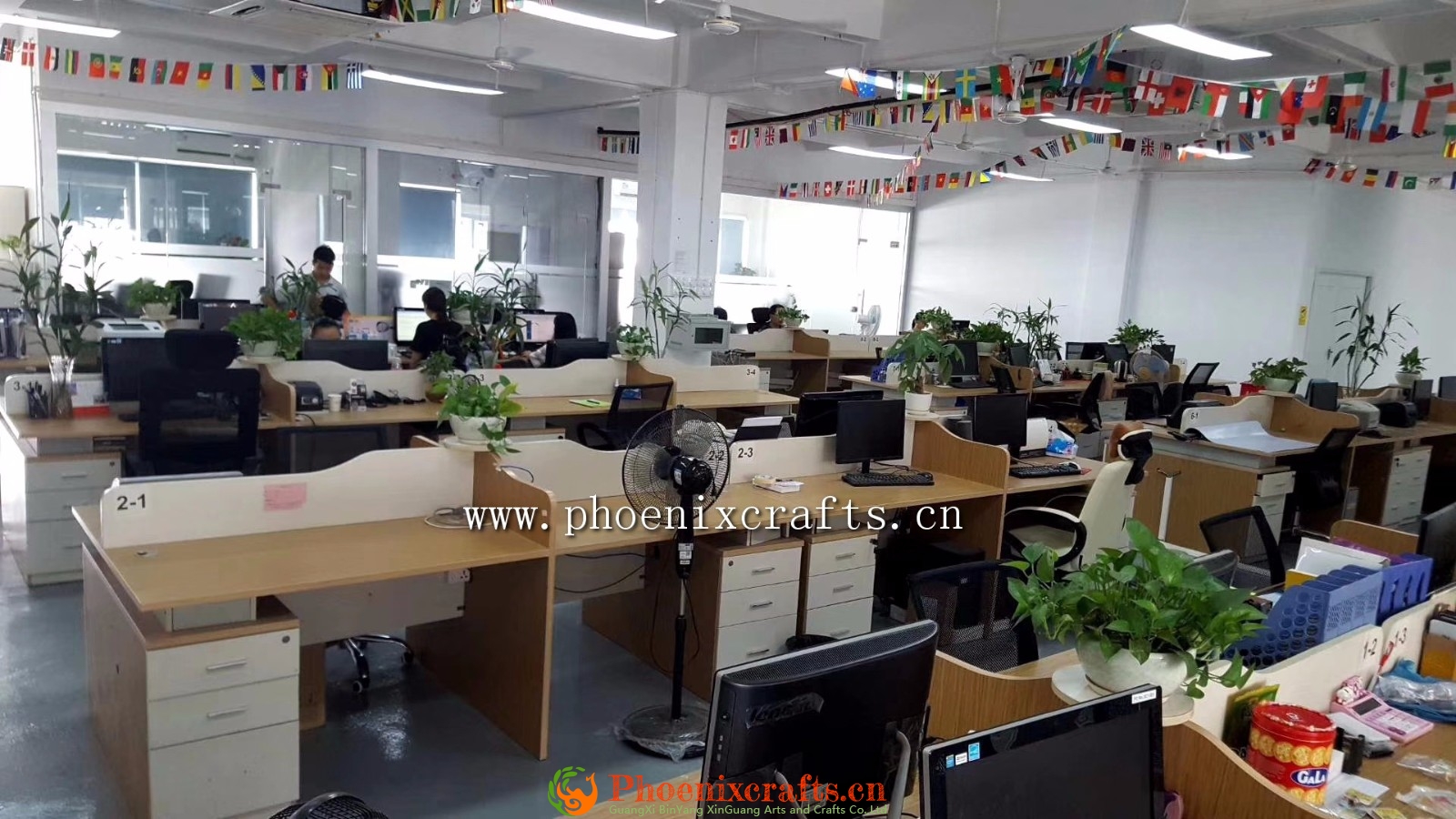 Office coffee room